Recently I have been praying to Hanuman for fortitude and strength.
Hanuman has the body of both a human and a monkey. He possesses supernatural physical strength and agility given to him by birth and as a blessing from Lord Rama for his selfless service and devotion. He was actually a god who incarnated as a monkey to serve Lord Rama.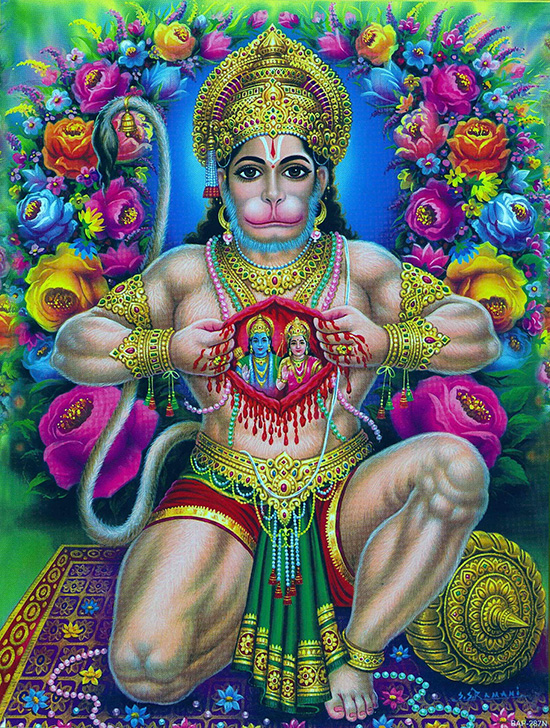 Hanuman exposing his true heart, revealing his beloved Ram and Sita seated together.
Om Sri Hanumate Namah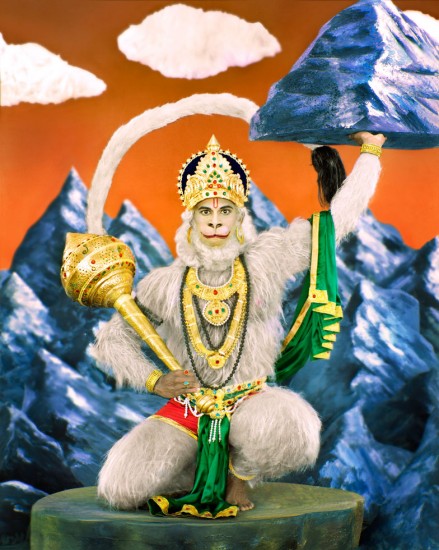 Lord Hanuman by Manjari Sharma courtesy of Clamp Art
Because of his bravery, perseverance, strength and devoted service, Hanuman is regarded as a perfect symbol of selflessness and loyalty. Worship of Hanuman helps the individual to counter the bad karma borne out of selfish action, and grants the believer fortitude and strength in his or her own trials during the journey of life. source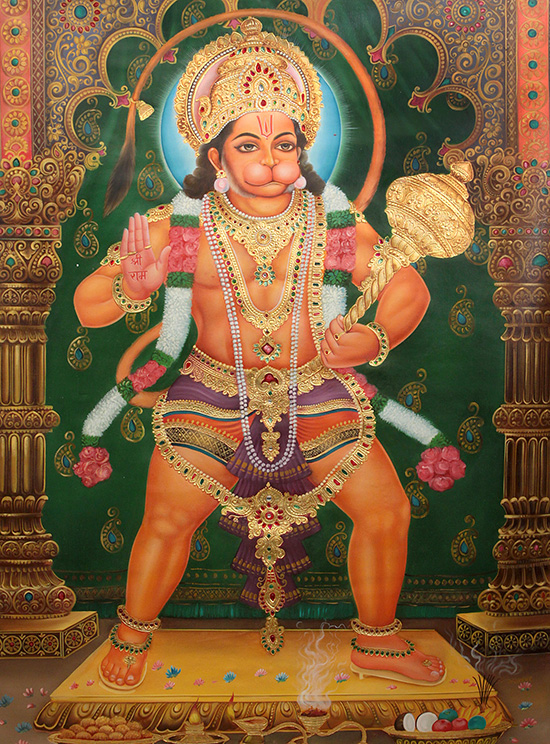 When you undertake Yoga practice to awaken the healing energies that can guide you forward the only direction to go is inward. To be alone with your self. Yet the path seems so impossible to tread without help. And that is the necessity and appeal of Hanuman, the egoless servant who exists to serve the bent of the Spirit within. To access such an ally within ourselves is vital to our progress. Intimacy with breath and reflection can play a significant role in that connection, in realizing you are compelled to find your unique and original heart and Spirit. When you learn to focus with stamina and access your breath, when you feel fully plugged in to your body by the flow of breath, where breath is the center, where you feel breathed by the breath, then you become Hanuman, born to serve Ram; you become the unswerving, loyal servant and ally whose sole mission is to reconnect your intelligence with your Spirit.  – More on Befriending Hanuman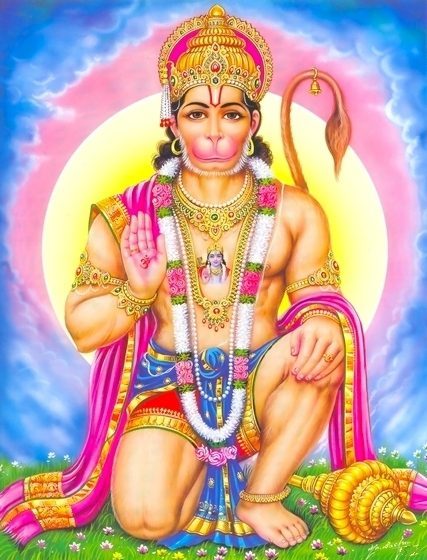 Here is a video of
Alanna Kaivalya
exploring the asanas of Hanuman. Alanna is an incredible yoga teacher and I love the way she incorporates her vast knowledge of mythology into her teachings. She has taught me so much.
Hanuman, is a legendary character from yoga mythology. He has three poses, or asanas, attributed to him: hanumanasana (splits pose), anjaneyasana (lunge pose), and virasana (hero pose). This video illustrates the mythology behind all three and introduces a sequence that incorporates these three hanuman poses.
The story of Hanuman comes from the Ramayana, an epic poem and tale. In this tale, Ram and Hanuman are best friends. Hanuman was a demigod sent to live in the forest with a band of monkeys. When he was young, his name was Anjaneya, named after his mother. That is why we call this kneeling lunge pose Anjaneyasana. This pose named for the baby Hanuman is all about finding an even stretch. Virasana is another name for Hanuman. Ram's girlfriend, Sita, was stolen by an evil demon so he sent Hanuman to save her. He prayed for the faith to do a seemingly impossible task. He prayed to be filled with confidence and love. The last Hanuman pose is (you guessed it!) Hanumanasana. This video shows how to get into this challenging splits pose through multiple variations and sequences. In this challenging pose, it is super helpful to remember that Hanuman is the embodiment of friendship and happiness – not suffering!
What do these poses have in common? They are all hip openers and involve the stretching of the psoas, the muscle that is most involved in moving through fear. And moving through fear is exactly what this monkey demigod does and what we can do through practicing these asanas. As we start to open these muscles, we begin to relieve our fear and our stress. When we do that, we can do anything.  source